Human Development and Family Sciences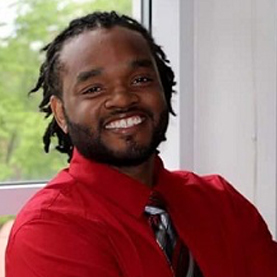 Ph.D. in Human Development & Family Sciences
I first came to the University of Delaware Department of Human Development and Family Sciences (HDFS) as a undergraduate with an interest in physical therapy. I took a class with Dr. Bahira Trask and my life changed forever. With wonderful advisement, professors and mentors that really invest in each of their student's careers, HDFS is easily the best department on campus.
My area of research is in critical race theory, social attitudes and activism. I have conducted a quantitative study examining how social attitudes and racial centrality affect one's activist behavior. I am currently conducting another quantitative study examining social attitudes over time. I am hopeful that, in time, these studies will be published with me as the primary author.
I presented at the International Sociological Association conference in Vienna, Austria in 2016 and was a member of the UD START team in China in June 2018. I have been granted the Graduate Scholar Fellowship Award twice. And I was able to create a new course – HDFS267, Diversity and Self-Awareness – that was offered at UD for the first time in the fall of 2018.
HDFS faculty are very intelligent and empowering people. Although the coursework is challenging and expectations are high for doctoral students, the faculty are very genuine and easy to work with.
I am a first-generation college student coming from a tough background.  I was initially rejected as an undergraduate student at UD. But thanks to the support of HDFS, ten years later, I have received a bachelor's and master's degree and am now pursuing a Ph.D. I would not be where I am today without the support of Dr. Trask and HDFS.
Daughtry presented his research on colorblindness and dismantling racism at the 2020 HDFS Race and Culture lecture series discussion.
You can read about his Racial Identity, Bias and the Self course in the February/March 2021 HDFS newsletter.