Human Development and Family Sciences
Faculty Spotlight: Dr. Roderick Carey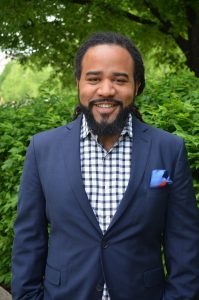 Roderick Carey, Ph.D.
Assistant Professor, Human Development and Family Sciences
RLcarey@udel.edu
Biography Page
Roderick's current interdisciplinary research serves to make sense of the school experiences of Black and Latino adolescent boys and young men in urban contexts, drawing upon critical theories, sociological tools, and constructs from developmental psychology. Roderick employs primarily qualitative approaches in researching and writing about both macro and micro issues related to families and schools, teacher education, professional development for equity, and the ways black and Latino adolescent boys and young men conceptualize their post-secondary school futures and enact college-going processes.
Roderick's present work can be divided into three related, but distinct strands. First, his work focuses on understanding the multiple factors influencing the ways that Black and Latino boys conceptualize and act on their future ambitions, particularly along the lines of college going and other postsecondary educational options. Two recent articles have emerged from this work. In his 2016 article published in The Urban Review, titled "Keep That in Mind, You're Gonna Go to College: Family Influence on the College Going Processes of Black and Latino High School Boys", is the first in a series that will consider the ways that families of color from low-income communities in urban contexts supported the college going of Black and Latino boys. Another article entitled "What am I Gonna be Losing? School Culture and the Family-Based College Going Dilemmas of Black and Latino Adolescent Boys" published in Education and Urban Society extends findings from "Keep that in mind" with the internal and external dilemmas triggered as boys consider college going in light of various family commitments (e.g. distancing themselves from family and financially burdening them). Roderick is continuing to write off of data gathered during a yearlong ethnographic case study of a group of 11th grade adolescent boys and anticipates continuing this research trajectory in the coming year.
Another research trajectory that Roderick undertakes is tied to envisioning new ways that schools can educate marginalized students like Black and Latino boys, by employing best practices for teacher education and professional development for equity. In this vein, Roderick has two pieces emerging – a handbook chapter on closing teaching and culture gaps in education in The Wiley Handbook of Teaching and Learning and a journal article on intersectionality, both co-authored. In the soon to be released journal article, Roderick and his co-authors employ intersectionality to envision an intersectional approach to greater school equity. This piece entitled, "Power, Penalty and Critical Praxis: Employing Intersectionality in Educator Practices to Achieve School Equity" will soon be published in the Educational Forum, the official journal of Kappa Delta Pi.
Lastly, prior to coming to the University of Delaware, Roderick was a Postdoctoral Research Fellow at the Center for Urban Education at the University of Pittsburgh. Part of his research work there was a multi-site evaluation of a youth organizing initiative at eight different youth development programs. Roderick was the lead qualitative researcher on this project, contributing to the development of focus group protocols, leading focus group and interviews, and analyzing all qualitative elements in this large mixed-methods study. Articles are emerging from this work, with the first being published in the Journal of Applied Developmental Psychology entitled  Reasons Youth Engage in Activism Programs: Social Justice or Sanctuary.
In addition to growing as a service-provider to the local, regional, and global community, and strengthening his dedication to teaching at the undergraduate and graduate level, Roderick comes to UD enthusiastic to continue to build his research trajectory across these three areas.