Our alumni work across the globe in a wide variety of fields and professions, all striving to serve children, families and individuals. Here are some examples of the great work that HDFS alumni are doing: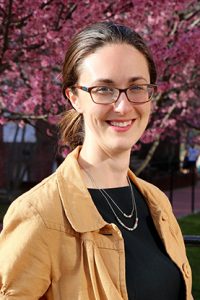 Dr. Alison Hooper, Ph.D. '17
Dr. Hooper is an Assistant Professor with the University of Alabama's College of Education where she is helping to support their Early Childhood Education program. As a Ph.D. student, Dr. Hooper completed extensive research on child care providers for her dissertation titled "Identifying and Exploring Profiles of Home-Based Childcare Providers: A Mixed Methods Study of Licensed and Unlicensed Providers." Dr. Hooper completed her dissertation research with support from an Administration for Children and Families grant. To learn more, visit her student profile page.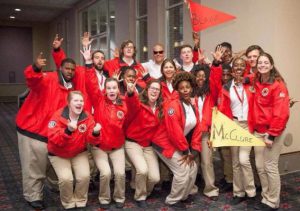 Jessica Reedy, B.S. '16
Jessica recently completed a placement with City Year, an Americorps Program, putting her education and skills to use in Philadelphia. With this opportunity, Jessica worked in a 4th grade bilingual classroom providing her with real world, direct service experience. Jessica completed her 400-hour internship during her senior year at the Ronald McDonald House of Delaware, where she continued to devote many hours serving as a Relief Manager after graduation. As of fall 2017, Jessica is beginning a master's of social work program at the University of Maryland.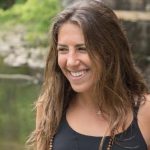 Michelle Schwartz, B.S. '17
As a human services student, Michelle paired her passion and professional experience as a yoga instructor with her academic experiences, utilizing her senior internship as an opportunity to design a yoga curriculum for children at the Laboratory School at UD. As an alumna, Michelle is currently pursuing a graduate degree at Rutgers University, and is also continuing her work as a yoga instructor as a method of improving the lives and health of individuals and communities.

Latiaynna Tabb, M.S. '15
Latiaynna Tabb founded Tabb Management, a community relations firm that contracts and consults with mission driven organizations to strengthen their relationships with target audiences. Using her background in social sciences, Tabb helps organizations develop strategic partnerships that allow for the creation of projects such as the Creative Placemaking development effort in Philadelphia which uses arts and culture to meet community needs.
Many alumni of our Ph.D. program have gone onto careers in academia, including:
Dr. Neda Moinolmolki, Ph.D. '16, is a Lecturer of Psychology at the College of Coastal Georgia
Dr. Laura J. Finan, Ph.D. '16, is a Postdoctoral Researcher with the Prevention Research Center at the University of California Berkeley
Dr. Nikki DiGregorio, Ph.D. '15, is an Assistant Professor of Child & Family Development at Georgia Southern University
Dr. Bethany Willis Hepp, Ph.D. '13, is an Assistant Professor in the Department of Family Studies and Community Development at Towson University
Dr. Karen Doneker, Ph.D. '12, is an Assistant Professor in the Department of Family Studies and Community Development at Towson University
Dr. JeanMarie St. Clair Christman, Ph.D. '11, is an Assistant Professor and Program Coordinator with the Department of Human Development and Family Studies at Penn State York