New Major, New Opportunities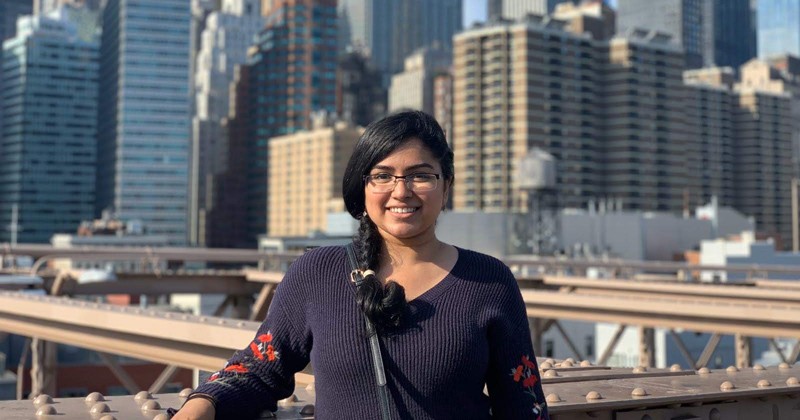 One of UD's newest degree programs prepares students for a career in human resources
Kajal Zala started thinking about a career in human resources when she was still in high school in Georgetown, Delaware, and working for a healthcare clinic that employed about 130 people.
"I volunteered a couple hours a week with the human resources director, helping with the credentialing process to make sure everything was in line with federal regulations," said Zala, a first-generation college student who graduated in May 2020. "When I saw how she represented and managed the clinic's employees, and how every day was a different challenge, I knew that's what I wanted to do."
Zala enrolled at UD in 2016 as a student in the Associate in Arts program on the Georgetown campus, which allowed her to complete the first two years of college while still living at home. And although UD did not yet offer a degree in human resources, Zala learned through an academic adviser in the Department of Human Development and Family Sciences that a new major in human relations administration (HRA) was in development and slated to launch the following academic year. "As soon as it was announced, I registered to change my major and have been very happy with that choice," Zala said.
Like many HRA majors, Zala's experience has been transformative. The major offers students interdisciplinary coursework in business, communications and human development with internationally-renowned faculty, a required minor in organizational and community leadership in coordination with the Joseph R. Biden, Jr. School of Public Policy and Administration, as well as substantial professional development in the form of 450 hours of required internships. Zala's academic career culminated in the 2020 spring semester, her final at UD, with an internship in talent acquisition at Amtrak.
"It was an incredible internship," said Zala. "I was able to interact with co-workers in legal and talent acquisition and learn how to hire large groups of employees onto union contracts. The entire HRA internship program is great for students to see what it's like to work in the real world before looking for jobs after graduation."
Read the full article in UDaily