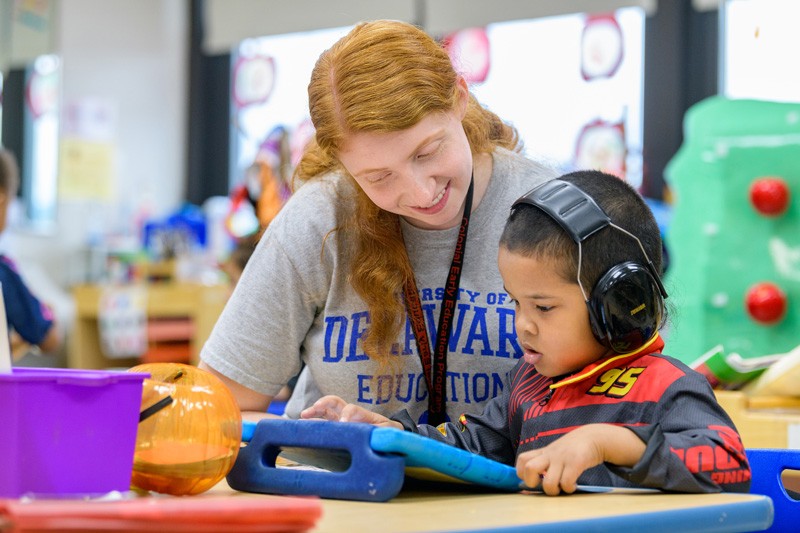 College of Education alum Rebecca Vitelli explains how UD prepared her to be Delaware's top teacher
University of Delaware alumna Rebecca Vitelli has been named Delaware's 2020 State Teacher of the Year. At age 26, she is one of the youngest nominees to receive the state-wide award, being nominated her first year of eligibility for her talent and commitment as a pre-kindergarten teacher in the Colonial School District.
During the next year, Vitelli will fulfill the many duties and obligations of her public role as Delaware's top teacher. She will meet with legislators, community groups and educational organizations to advocate for the importance of high-quality early childhood education opportunities in Delaware. But Vitelli won't let these speaking engagements distract from her true calling. On a typical weekday in her pre-k classroom at the Colonial Early Education Program in New Castle, Vitelli focuses on her students, providing evidence-based lessons for children in special education and their typically developing peers.
For example, before circle time, Vitelli takes a child's hand and begins to sing the clean-up song, renowned among parents and educators.
"Through our many songs we help create a sense of safety, belonging and connection. We also embed a lot of language and motor skills through singing," said Vitelli, who received an honors bachelor's degree with distinction in early childhood education in 2014 in the College of Education and Human Development. Just one year later, she completed a master's in exceptional children and youth with a concentration in autism/severe disabilities.
Read the full article on UDaily