Cory Gilden receives scholarship from Autism Delaware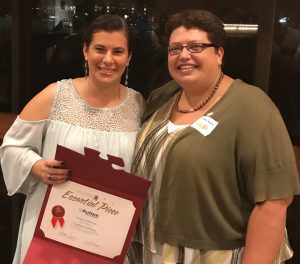 Cory Gilden, a Ph.D. student in human development and family studies, was awarded the 2017 Daniel and Louis Gray Memorial Scholarship last week at an Autism Delaware event in Dover. This scholarship helps support students who are pursuing a career related to autism. Much of Cory's professional experience and current research is related to supporting parents of students with disabilities, with a particular focus on autism. Cory currently serves as a graduate assistant for the National Leadership Consortium on Developmental Disabilities. She has also enabled HDFS undergraduate students to become engaged in the field of disability services as the instructor  HDFS 270 Families and Developmental Disabilities in 2016.
Congratulations to Cory on this recognition!