Dr. Bahira Trask delivers keynote at UN event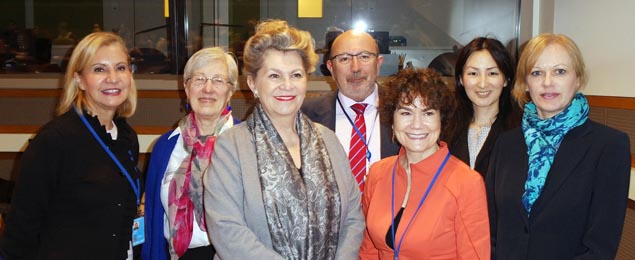 Dr. Bahira Trask (on the left end) is joined by fellow presenters at the UN on April 4, 2017.
On Tuesday, April 4, Dr. Bahira Trask delivered a keynote address at the United Nations headquarters in New York City. The keynote address was part of the 50th Session of the Commission on Population and Development's meeting titled Intergenerational relations in an ageing world. The title of Dr. Trask's keynote address is "Supporting Families: Strengthening Intergenerational Solidarity in Changing Times and Contexts." Dr. Trask joined policy makers, and fellow scholars, to discuss the familial and societal structures that must be addressed to promote intergenerational relations that allow all members of communities and society at large to receive supports and opportunities. Review the event program to learn more.