Human Development and Family Sciences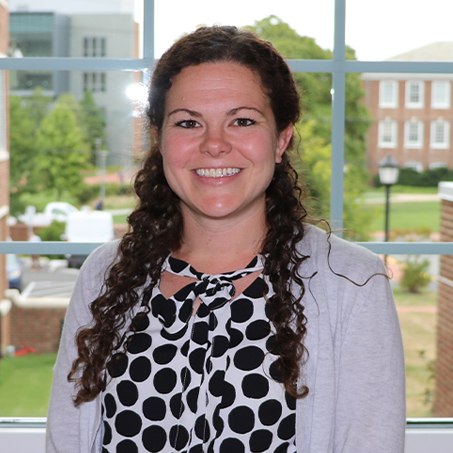 Ph.D. in Human Development & Family Sciences
As a former preschool teacher and Head Start center director, it was important for me to pursue my Ph.D. at the University of Delaware where I could benefit from the guidance of faculty members engaging in important community-based research and other research with implications for early childhood policy and practice.
With an interest in early childhood development and education policy, my research areas focus on issues that are amenable to policy evaluation and intervention. Specifically, I explore access to high-quality early childhood education and care, the transition to kindergarten and school readiness.
Assisting with ongoing research as part of my assistantship as well as having the opportunity to design my own research has been incredibly invaluable. I've had the opportunity to collect and analyze qualitative and quantitative data for two federally-funded research projects—one that evaluates the impact of a parent-child interaction intervention in Early Head Start and another that is focused on promoting quality improvement in early childhood settings.
Faculty have been extremely accessible. I have collaborated extensively with my advisor, Dr. Jason Hustedt, as well as with several other UD faculty members. I have co-authored one peer-reviewed journal article, have one co-authored paper under review, and have several manuscripts in progress. In addition, I have presented at five conferences and worked on two grant proposals with HDFS faculty members.
I have appreciated being able to use products from courses to advance my research agenda. For instance, I took a grant writing course where I had the opportunity to write a draft of a dissertation grant proposal that I hope will inform the dissertation grant proposal I plan to write this spring.
Working with Dr. Hustedt, I turned one of the final papers I wrote for a core required class into a published manuscript. I'm also currently working on a manuscript based off of a final paper from an advanced research design course under the mentorship of my course instructor and with the guidance of my advisor.
Beyond exceptional academic and research support, I am grateful to have received important financial support from CEHD.  I received both the Dean's Scholar Award and the Lynn R. Okagaki Graduate Tuition Scholarship in Human Development and Family Sciences.
---
As she begins work on her dissertation, Gerilyn was awarded a Child Care Dissertation Grant from the federal Administration for Children and Families. Her project will be supervised by HDFS associate professor Jason Hustedt, and is titled Examining Provider Participation in the Child Care Subsidy System: A Mixed Methods Study. Gerilyn will survey childcare providers across the State of Arkansas and will also look at national trends in childcare subsidy use, with data from the National Survey of Early Care and Education. Gerilyn is the third current HDFS student to receive this prestigious award – Jing Tang and Danielle Riser both received dissertation grants last year.