Human Development and Family Sciences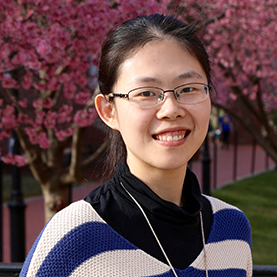 Ph.D. in Human Development & Family Sciences
I chose to pursue a Ph.D. in Human Development and Family Sciences at the University of Delaware because I knew it was a well-regarded, research-focused institution.
My research interests are child care providers' professional development and children's play – specifically how teachers and parents perceive children's play with an ultimate goal of best supporting children's play and learning.
I conducted research for my thesis using secondary data collected from DIECC's Professional Development trainings for Delaware childcare providers. After the study was completed, I was able to apply my research to revise the assessment tools measuring the effectiveness of a series of PD training sessions.
Through independent study for a research class, I used a mixed-methods design to examine Chinese young adults' perceptions of children's play. I collected data from 50 Chinese participants and reported the research findings at The Association for the Study of Play (TASP) 2018 annual conference, for which I was awarded their Student Travel Grant.
Professors in our department are very encouraging and accessible. My advisor, Dr. Martha Buell, is particularly supportive. Knowing the challenges I face as a second language learner, she has patiently coached me on thesis research and how to edit academic writing.
I am also grateful for the support of a resourceful department and a great community of fellow Ph.D. students.