Human Development and Family Sciences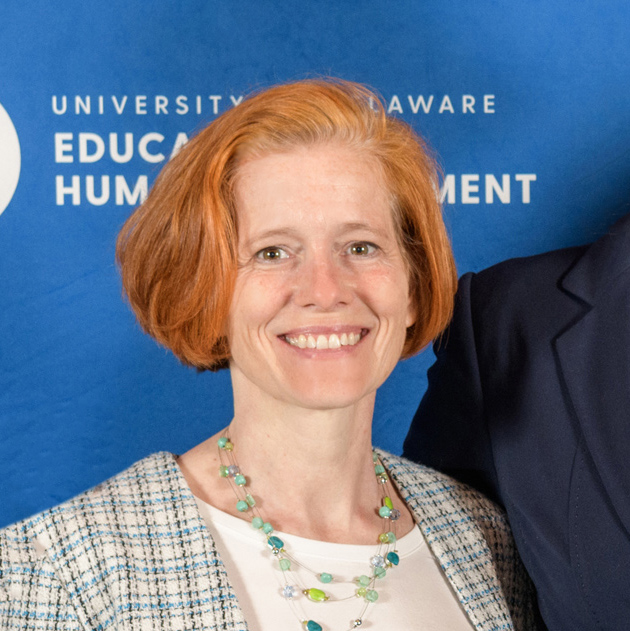 M.S. in Human Development & Family Sciences
After raising four children and working as a substitute teacher at the University of Delaware's Early Learning Center, I realized that my interest in advocating for quality, accessible early childhood education for all had grown to the point that graduate school was a logical and important next step for my career.
I decided to test the waters by enrolling in Dr. Myae Han's literacy course, HDFS 606, within UD's College of Education and Human Development.  I was immediately inspired by her passion for ECE and her dedication to her students' success. I was also intrigued and motivated by faculty research projects.  As a result, I decided to pursue an M.S. in Human Development and Family Sciences with a concentration in Early Childhood Development & Inclusive Education.
I am interested in the study of play and how play provides preschoolers the opportunity to develop fundamental academic and life skills. More specifically, I explore how children, through play, learn to negotiate and resolve conflict.
One of my most meaningful research experiences involved working directly with Dr. Han on a qualitative pilot research study at the Lab School.  I conducted naturalistic observations, performed data transcription, coding and analysis, created an observation instrument – and presented it all at a national conference.
In addition, Dr. Rena Hallam provided me with the opportunity to work as a research assistant for Delaware Stars where I engaged in secondary data analysis, reporting and project management. I also benefitted from working as an HDFS undergraduate advisor under Dr. Lynn Worden.
I was fortunate to present a paper, "The Effects of Nature-Preschool on Children's Language, Conflict Resolution, and Child-Initiated Play," at the The Association for Successful Parenting (TASP) Conference and the International Play Association (IPA) Conference.  In 2019 I presented a CEHD Talk on "Reclaiming Play: Why We Should Never Stop" at CEHD's annual Steele Symposium.
My graduate study has been further enhanced by the opportunity to serve as a guest lecturer in several classes, by being a 2019 ECE Undergraduate Portfolio Defense Evaluator – working with peers on a NSECE research team, and by volunteering for the Delaware Association for the Education of Young Children ( DAEYC) Advocacy Project to bring awareness of the importance of early childhood education for all Delaware children.
The exceptional faculty and staff that first drew me to the Department of Human Development and Family Sciences continue to provide me with support. Their dedication to graduate students and the guidance they provide have fostered my personal and academic growth.
The Early Childhood Development and Inclusive Education specialization is providing me with the skills, knowledge and experience to succeed in my future professional career. My own passion for early childhood education, sparked by that of the HDFS faculty, has inspired me to pursue a Ph.D. so I can continue my research and inspire others to advocate for ECE.
Annette Pic is now enrolled in the Ph.D. in Human Development & Family Sciences program. You can read about her recent projects in the February/March 2021 HDFS newsletter.