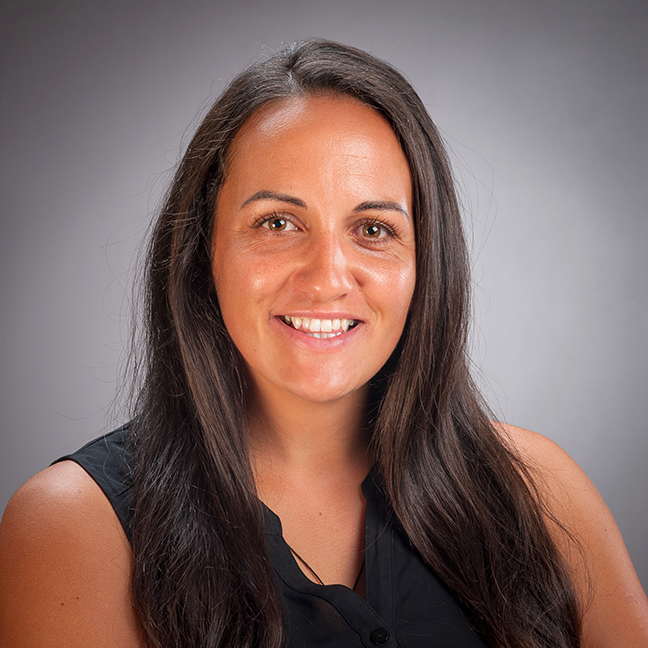 Cohort: 2016
Advisor(s):
Jennifer Carrano
Specialization(s):
Adolescent Development
Research Interest(s)
Adolescent Development, Family Studies, Organized Sports, Parenting
Lara Andrews
Lara Andrews is a Ph.D. student in HDFS interested in parental involvement in organized sports and positive youth development. Lara has combined her studies and research projects with her experiences as a professional softball player. She hopes to return to her hometown in New Zealand and work in academia. Lara is currently conducting her dissertation research in New Zealand. Prior to her research work, Lara served as a graduate instructor of several First Year Experience seminars, and developed the Special Olympics Relationship Experience (HDFS 225) course in which students participate in and coach organized sports with Special Olympics athletes.
Research Projects
Role: Research Consultant
Work within the community to collect insights on local play
International Benchmarking report and Literature Review
Develop surveys, collect local data and submit final report
Develop Play Snap Shot 2018 and Takaro document
KiwiSport Programme Evaluation
August 2017 & September 2018  Leisure Active and Recreation, Hutt City Council, Lower Hutt NZ
Developed 2 KiwiSport program evaluations in local schools
Interview 49 Principals, teachers, students in the wider Wellington Region
Collect qualitative data and submit final Evaluation reports
Victoria University of Wellington, Wellington, NZ
May 2 – November 2017
Role: Research Assistant
Research assistant for the evaluation of Naenae Boxing Academy, Naenae. Naenae Boxing Academy is a youth development program that supports young boys who are living in a high risk area giving them opportunities to enable them to become 'Champion People'
Research and Planning
Survey children, coaches, and leadership groups
Collect qualitative and quantitative data
Recent Publications
Andrews, Lara, and Jennifer Carrano. 2018. "Is Parental Participation in Organized Sports Associated with Positive Youth Development?." The International Journal of Sport and Society 9 (4): 45-59. doi:10.18848/2152-7857/CGP/v09i04/45-59.
Andrews, L. 2018. "Takaro: To Play", Hutt City Council Play Report, p 1-28.
Recent Presentations
June 2019
Role: Speaker
Share research with 2nd year students studying Bachelors of Youth Development at Weltec
Guest speaker at Orientation day for Weltec, Petone
Guest Speaker for a Youth Development course for Weltec, Porirua
Ignite Sport Youth Development organization
June 2017 to present: Ignite Sport
Role: Ambassador
Ignite sport is a volunteer-based youth development organization offering a unique delivery style. Using sport and recreation to engage, Ignite sport encourages young people to consider character, values, balance and heat.
Inspiring young people and impacting communities through sport
Speak to leadership groups about their roles at school and in their communities
Speak at numerous colleges to inspire young people in our community: Naenae College, Heretaunga College, Taita College, Wainui College
Shift – National Organization dedicated to empowering young women

November 2017 to present: Shift
Role:  Speaker
Shift is an initiative to improve the wellbeing if young women aged 12 – 20 years. This initiative is based around the design of wellbeing solutions with young women to better understand their needs etc.
Attended numerous events to share my journey with young women to empower and inspire leadership
Speaker at National EmpowHER Conference 2018
Speaker on 2x Leadership regional panels
Speak within schools to inspire and empower students: Mana College, Bishop Viard, Porirua College
Professional Experience

Sports NZ Ambassador, Balance is Better Ambassador, July 2018 – Present
Developer/Instructor of Special Olympics Relationship Experience (HDFS 225), 2014-2017
New Zealand Women's National Softball Team, July 2005-Present
Professional Softball Player for Thunders Castellana, Italian Softball League, 2016
Professional Softball Player for Pennsylvania Rebellion, May 2014-August 2015
Honors and Awards
Captain of the NZ Women's White Sox Softball Team to compete at the Asia Pacific Cup, Sydney Australia
New Zealand female Softballer of the Year (2018 & 2019)
Amy Rextrew Graduate Student Award, Department of Human Development and Family Studies, University of Delaware, 2017
Hutt Valley Sportswoman of the Year, April 2015
Most Valuable Player, University of Delaware Women's Softball, 2011 & 2013
Past Education
M.S., Human Development and Family Studies, University of Delaware, 2015
B.S., Human Services, University of Delaware, 2013