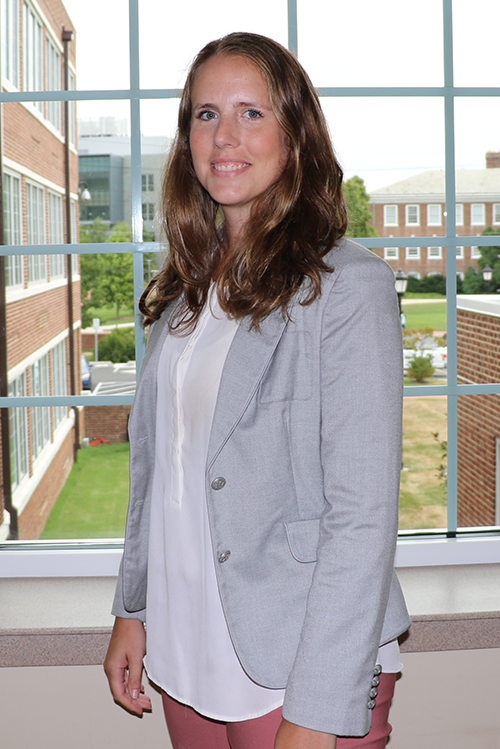 Cohort: 2024
Advisor(s):
Barbara Settles
Specialization(s):
Families
Research Interest(s)
infant feeding, lactation and family studies
Kelsey Bianca
Kelsey holds a Bachelor of Science degree from Lynchburg College and a Master of Arts degree from Washington College. Kelsey is currently an Assistant Professor at Cecil College in North East, Maryland teaching human development, psychology, and sociology courses. Kelsey is a part-time Ph.D. student in the Department. Kelsey's research interests focus on infant nutrition choices, expression of breast milk through breast pumping, and the impacts of maternal employment on families and implications for policy. Kelsey plans to continue research and instruction at a post-secondary institution.
Recent Presentations
Beckles, W. & Bianca, K.P. (2019). The Chaos of Addition. From Crisis to Connections: Addressing Addiction in Cecil County, Symposium.
Bianca, K.P. & Vogelsong, C. (2019). Online digital learning to facilitate cognitive learning strategies in college coursework. Association of Faculties for the Advancement of Community College Teaching (AFACCT) Annual Conference.
Bianca, K.P. & Hunt, R. (2018). Crisis on Campus. Life Matters Suicide Prevention Conference.
Professional Experiences
Assistant Professor, Social Sciences, Cecil College, North East, MD. 2018-2019.
Lecturer, Social Sciences, Cecil College, North East, MD, 2017-2018.
Adjunct Instructor, Psychology, Cecil College, North East, MD, 2015-2017.
Honors and Awards
Graduated Cum Laude from Lynchburg College, 2011
Graduated with Honors in Psychology, Lynchburg College, 2011
Outstanding Senior in Psychology Award Lynchburg College, 2011
Member of Psi Chi, The International Honor Society in Psychology
Member of Phi Eta Sigma, The National Freshman Honor Society
Academic All-Conference Team Old Dominion Athletic Conf. 2008, 2009, 2010
Omicron Delta Kappa The National Leadership Honor Society
Professional Memberships
American Psychological Association
Eastern Psychological Association
Maryland Psychological Association
Past Education
M.A. Psychology, Washington College, 2014
B.S. Psychology, University of Lynchburg, 2011