Human Development and Family Sciences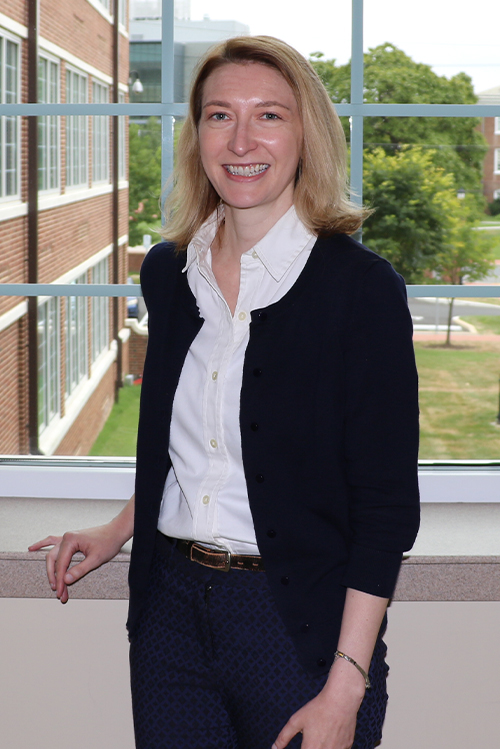 Cohort: 2024
Specialization(s):
Early Childhood Development
Research Interest(s)
attachment and intergenerational transmission of trauma/adverse childhood experiences, early childhood systems and policy
Deborah Drain
Deborah is a Ph.D. student in the HDFS department interested in research in early attachment, parenting, and intergenerational transmission of trauma and their application to child and family policy. Deborah has been in the field of early childhood for nearly 10 years in various roles for Head Start and Early Head Start. Roles include as an Early Head Start Coordinator and Parent Engagement/Family Involvement Specialist. Additionally, she was the state lead for the Idaho Maternal, Infant, and Early Childhood Home Visiting Program. After achieving a doctorate, Deborah hopes to continue her career as a child and family policy researcher.
Professional Experiences
Project Coordinator, The Children's Advocacy Center of Delaware,  May 2017– May 2018
Health Program Specialist/State Lead for the Idaho Maternal, Infant and Early Childhood Home visiting Program, Idaho Department of Health and Welfare,  Aug. 2013 – May 2017
Parent Engagement/Family Involvement Specialist, The College of Southern Idaho Head Start/Early Head Start, Aug. 2012 – Aug. 2013
Policy Council Liaison, The College of Southern Idaho Head Start/Early Head Start, May. 2011 – Aug. 2013
Early Head Start Coordinator, The College of Southern Idaho Head Start/Early Head Start, Mar. 2010 – Aug. 2012
Interim Recruitment and Enrollment Coordinator, The College of Southern Idaho Head Start/Early Head Start, May. 2011 – Aug. 2011
Family Educator II, The College of Southern Idaho Head Start/Early Head Start, Dec. 2009 – May 2010
Community Resource Coordinator, The College of Southern Idaho Head Start/Early Head Start, Dec. 2009 – Mar. 2010
Graduate Assistant, Department of Political Science, Idaho State University, Aug. 2007 – May. 2008
Area Plan Surveyor Intern, Three Rivers Resource Conservation and Development, Jan. 2008 – May. 2008
Intern, South Eastern Idaho Community Action Agency, May 2007 – Aug. 2007
Honors & Awards
Graduated with honors in Liberal Arts from the College of Southern Idaho, Spring 2003
Most Valuable Staff Member, The Bengal News student newspaper, Idaho State University, Fall 2003-Spring 2004
Graduated with honors from in International Studies with an emphasis in Political and Economic Development from Idaho State University, Spring 2006
Past Education
M.P.A.—State, Local and Non-Profit Administration, Idaho State University, May 2008
B.A. International Studies—Political and Economic Development, Idaho State University, May 2006
A.A. Liberal Arts, College of Southern Idaho, May 2003