Di Liu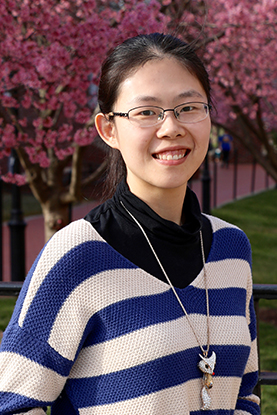 Expected Graduation: 2022
Specialization(s):
Early Childhood Development, Early Childhood Education
Research Interest(s)
Professional development, Teacher training
Di Liu
Di is a Ph.D. student in HDFS with an interest in early childhood education. Her particular research interests are early childhood teachers' professional development and children's play. Di had some practical experiences in both Chinese and American pre-school and daycare centers with children. During working with teachers and children in different cultures, she finds it important to understand the cultural contexts of early childhood care and education before judging what the best practice is, and advocating the best child care practice. Di plans to apply her education and research experiences from the U.S. to early childhood education and children development contexts in China.
Research Projects
Using Secondary Data to Explore the Growth of Child Care Providers' and Administrators' Curriculum Knowledge in A Professional Development Training (2015-2017).
A Pilot Study of Exploring Chinese Adults' Perceptions of Children's Play (2017).
Recent Publications
Liu, Di. (2015). "Exploring Child Care Providers and Administrators' Learning Outcomes in a Professional Development Curriculum Training (Master's Thesis). University of Delaware.
Recent Presentations
Liu, D. (2017). Literature Review of Chinese Adults' Perceptions of Children's Play. Presented at the 43rd Annual International Conference: The Association for the Study of Play (TASP). New York: Rochester.
Liu, D. (2017). Comparing Developmentally Appropriate Practice (U.S.) and Guidelines for Learning and Development for 3- to 6-year-old Children (China). Gong Yuanxiang Kindergarten. China, Jiangsu Province: Xuzhou.
Professional Experience
Graduate Research Assistant, The Professional Development Department at the Delaware Institute for Excellence in Early Childhood, University of Delaware, 2017
Intern, Gong Yuanxiang Kindergarten, China: Xuzhou, March-May, 2013; May-June, 2015; June, 2017
Curriculum Reviewer of Forming Good Habits in Childhood (preschool version), Jiangsu Normal University, China, 2016
Graduate Research Assistant, Family Child Care Project, Human Development and Family Studies, University of Delaware, 2015-2016
Intern, St. Mark's Preschool, Bloomington, IN, 2015
Past Education
M.Ed., Early Childhood Education and Instruction, Indiana University at Bloomington, 2015
B.A., Chinese Language and Literature, Nanjing Normal University, China, 2012