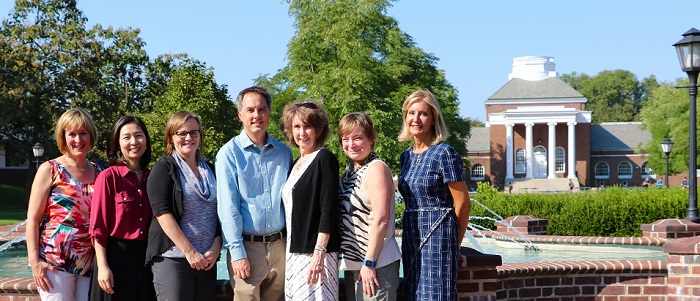 The Department of Human Development and Family Sciences is dedicated to facilitating the healthy development of individuals and families across the life span–early childhood intervention, positive adolescent development, advocating women and gender issues and preventing elder abuse.
Our faculty bring a unique set of qualifications and real-world experiences to the classroom, to research, to public service and to the life of the department. Having expertise in various academic disciplines, including psychology, human development and family studies, sociology, education, anthropology, and public policy, they are able to provide our students an interdisciplinary perspective during their courses of study.
Awards and Recognition
Our faculty are renowned experts in their field. They hold leadership positions, present at national and international conferences and are recognized for their scholarship.
Bahira Trask was awarded the faculty senate Excellence in Teaching Award in 2017, in recognition of her years of exemplary teaching at the University of Delaware, both at the undergraduate and graduate levels.
Allison Karpyn received a Fulbright Award in 2016 to conduct research on food insecurity in the Bahamas.
Barbara Settles received the 2015 Torch Award, an annual recognition granted by the Women's Caucus to celebrate individuals who advocate for women's rights and equity on campus. Since joining the University in 1968, Dr. Settles has been an unwavering force in improving the policies and benefits that are granted to women on campus.
Steven Eidelman has been  selected to receive the American Association on Intellectual and Developmental Disabilities' 2015 Leadership Award. This award is presented for courage and dedication resulting in an outstanding contribution to the field of and developmental disabilities. Presented at the 139th Annual Meeting, on June 3, 2015 in Louisville, Kentucky.
In addition to our professors who have primary appointments within our Department, several have Joint or Secondary appointments as well. Working in applied Centers in the University, these members bring an additional layer of expertise into the classroom.
Instructors complement our faculty and bring their knowledge and skills from settings within and beyond the University. Lastly, faculty who have retired continue to help students and our department with their wisdom, experiences and expertise. They are our Emeriti faculty.