Myae Han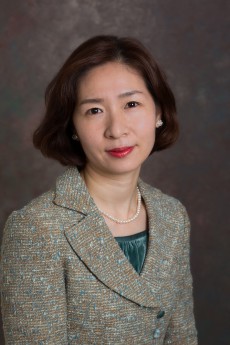 Associate Professor

Education:
Ph.D., Curriculum & Instruction: Language & Literacy, Arizona State University
M.Ed., Curriculum & Instruction: Early Childhood Education, Arizona State University
B.A., Early Childhood Education, Duksung Women's University, Seoul
Curriculum Vitae
Course Taught or Developed:
HDFS 406: Supporting Literacy in ECE
HDFS 665: Professional Development Seminar
Biography:
Dr. Han's research interests include 1) an early intervention for at risk children to support early language and literacy and parent-child interaction using applied and translational research, 2) play-based curriculum and intervention, 3) culturally and linguistically diverse children.
Her earlier research focused on studying the relationship between play and early literacy development examining contextual factors impacting individual child's literacy experience during the free play time. In three Early Reading First projects, she continued to develop the intervention model using the play as a way to support language and literacy for at risk preschoolers.
She has directed various federal and state grant projects including three Early Reading First grant, Early Head Start University Partnership grant, Child Care Research Partnership grant, etc.  She has written various articles in the journals such as Early Childhood Research Quarterly, Early Education and Development, Journal of Research in Childhood Education, Child and Youth Care Forum, NHSA Dialogue, Play and Culture Studies, etc.
Professional and Community Service:
Dr. Myae Han is a current president of Literacy Development in Young Children (LDYC) SIG at the International Reading Association, and a past president of The Association for the Study of Play (TASP). She serves on the Professional Development department at the Delaware Institute for Excellence in Early Childhood.  She has been a reviewer of various journals including Journal of Literacy Research, International Journal of Early Childhood Research, Asia-Pacific Journal of Research in Early Childhood Education.  She is a member of The Association for the Study of Play (TASP), International Reading Association (IRA), and the National Association for the Education of Young Children (NAEYC).
This entry was posted in Uncategorized.